Dale C. S. Destin |
August is the second most busy month of the hurricane season, behind September. We in Antigua and Barbuda and the rest of the Caribbean have been impacted by tropical cyclones (TCs) – tropical depressions and named storms (tropical storms or hurricanes), many times in August. Hence, "look out you must" act to become hurricane strong.
The Atlantic Basin, including the Caribbean, averages in August: 3 to 4 named storms, including 2 hurricanes and 1 major hurricane – Category 3 intensity or more, based on the current climatological standard normal period, 1981-2010. The month sees a Category 5 hurricane every 7-8 years; the last one was Dorian of last year. Note that we credit TCs to the month in which they were formed.
The last hurricane to impact Antigua and Barbuda, in August, was Hurricane Earl of 2010. The centre of the hurricane passed within 40 km (25 mi) and 89 km (55 mi) north of Barbuda and Antigua respectively. At the time of impacting the islands, Earl was a Category 2 hurricane with maximum sustained winds of 169 km/h (105 mph). 
Barbuda likely got close to the maximum impact from Earl. At the V. C. Bird International Airport in Antigua, maximum winds measured were 82 km/h (51 mph) gusting to 105 km/h (65 mph). The damage to both islands amounted to around US$13 million, and there was one fatality.
Earl also caused damage to the rest of the Leeward Islands, the Virgin Islands, Puerto Rico, the East Coast of the United States and Canada. The system caused a total of 8 fatalities and around US$45 million in damage.
The probability of Antigua and Barbuda being impacted by a storm or hurricane, in August, is around 18 percent, based on the current base period of 1981-2010. The probability increases to 38 percent for the active period being experienced by the Atlantic since 1995. This means that we have been impacted by a storm or hurricane every 2 to 3 years since the mid-1990s.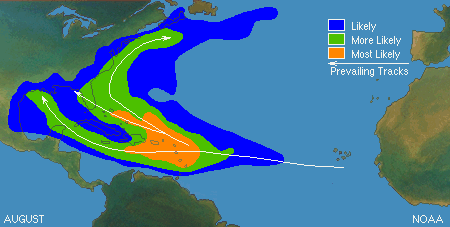 The probability of us being impacted by a hurricane, in August, is around 6 percent based on 1981-2010 data and around 11 percent for the current active period. This means that we are affected by a hurricane, in August, every nine years.
Antigua and Barbuda have been affected by 22 tropical storms and 18 hurricanes, in august, dating back to 1851. Our most powerful August hurricane was a Category 4 system nicknamed the San Ciriaco Hurricane of 1899. This is the longest-lived Atlantic hurricane on record – 28 days.
Since 1851, the Eastern Caribbean (EC) has been affected by 99 named storms; 37 were hurricanes and 10 were major hurricanes.
The last hurricane to impact the Caribbean in August was Dorian of 2019. It passed through the Windward Islands as a tropical storm, then turned north-northwest and brushed Antigua and most of the Leeward Islands. Dorian became a hurricane over the Virgin Islands. After leaving the Caribbean, it intensified into the second strongest Atlantic hurricane, tied with the Labour Day Hurricane of 1935 and (Wild) Gilbert of 1988, then literally flattened the northern Bahamas, over a three day period, in which it moved at a "snail's pace". It left in its wake 84 fatalities, 245 missing and US$4.6 billion. Dorian became the strongest hurricane, on record, to form in August.
The probability of at least a storm or hurricane impacting the EC annually, in August, is 41 percent; the probability of a hurricane is 15 percent and the probability of a major hurricane is 6 percent. It means that the EC is impacted by a storm or hurricane, in August, every 2-3 years; a hurricane every 6-7 years and a major hurricane every 16-17 years.
The probability of a storm or hurricane across the western Caribbean is around 33 percent. For the central Caribbean, this probability is around 26 percent.
August has produced 392 named storms of which 247 were hurricanes, 120 were major hurricanes and 14 were Category 5 hurricanes, based on NOAA. We note that there are likely storms that were missed prior to the Satellite era – prior to the mid-1960s. For climate period – 1981 to 2010, there have been 101 named storms of which 51 were hurricanes and 26 major hurricanes.
August has trice had a maximum of 8 named storms in a given year – 2012, 2011 and 2004. On two occasions, there were 3 hurricanes – 1966 and 1916. Further, on four occasions there were three major hurricanes – 1969, 1933, 1893 and 1886.
Like July, above normal tropical cyclone activity in August normally signals a busy hurricane season. What will this August bring? We can't be sure, but the forecast is for an above normal to hyperactive season. Whatever it brings, let's be prepared! Be hurricane strong!
Please continue to follow me for more on the hurricane season and all things weather and climate via Twitter, Facebook and Instagram. Also, share this blog, if you found it useful.