Dale C.S. Destin|
September is usually the busiest month of the hurricane season and this September is expected to be no less – it's on a record pace. Already, the first half of September has produced six named storms – Nana, Paulette, Rene, Sally, Teddy and Vicky, two shy of the record. Nana, Paulette, Sally and Teddy also became hurricanes.
We in Antigua and Barbuda and the rest of the Caribbean have been impacted most in September by tropical cyclones (TCs). Hence, September remember to standby, it is the heart of the hurricane season.
The Atlantic Basin, including the Caribbean, in September, averages around four named storms, including two to three hurricanes and one to two major hurricanes – Category 3 intensity or higher, based on the current climatological standard normal period, 1981-2010. These numbers have already been exceeded, with half of the month remaining.
The month sees a Category 5 hurricane every 5 years, on average; the last one was Lorenzo of 2019.
The last hurricane to impact Antigua and more so Barbuda, in September, was Super Category 5 Hurricane Irma of 2017, which virtually levelled Barbuda; killing one and causing US$160 million in damage and loss.
Irma also caused catastrophic damage to much of the northern Caribbean from Barbuda to Cuba. Similar devastation also occurred across Florida. All toll, there were 134 fatalities and over US$77 billion in damage.
Irma is the strongest hurricane on record to impact the Eastern Caribbean. Irma also tied with Hurricanes Rita of 2005 and Mitch of 1998 for the sixth strongest hurricane on record for the Atlantic, with respect to sustained winds.
The probability of Antigua and Barbuda being impacted by a storm or hurricane, in September, is around 26 percent, based on the 1981-2010 base period. This means we are affected by a storm or hurricane, in September, every three to four years.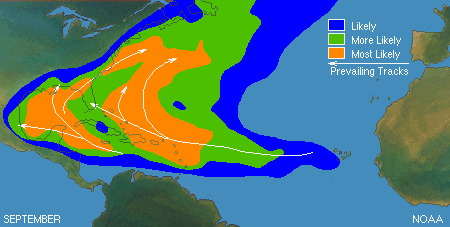 The probability of us being impacted by at least one hurricane, in September, is 15 percent. This translates to a September hurricane passing within 120 miles of Antigua and Barbuda every six to seven years. Based on the return period, you may be tempted to say that we are not due for a hurricane in September until 2023 or 2024; however, the law of statistics and return period are not that exact.
Antigua and Barbuda have been affected by 24 tropical storms and 26 hurricanes, in September, 15 were major hurricanes – Category 3 and over, based on the 169 year record. Of course, our most powerful September hurricane was Irma; however, our most destructive September hurricane was Category 4 Hurricane Luis of 1995.
Since 1851, the Eastern Caribbean has been impacted by 97 named storms; 46 were hurricanes and 17 were major hurricanes. Over the base period, 1981-2010, there have been 17 named storms, 8 of which were hurricanes and 3 were major hurricanes. This translates to the Eastern Caribbean having a 43 percent chance of a named storm, 23 percent chance of a hurricane and 9.5 percent chance of a major hurricane in September. In other words, there is a storm in September in the Eastern Caribbean every 2-3 years, a hurricane every 4-5 years and a major hurricane every 10-11 years.
The probability of a storm or hurricane (named storm) across the western Caribbean, in September, is around 37 percent. For the central Caribbean, this probability is around 28 percent.
The last hurricane to impact the Caribbean in September was Category 5 Hurricane Maria of 2017. Maria virtually levelled Dominica and Puerto Rico. Other islands in the northeast Caribbean suffered damage of varying degrees.  It directly impacted Dominica by passing over that island. Puerto Rico suffered a similar fate but after Maria had weakened to a Category 4 hurricane. All toll, Maria killed over 3000 people and caused over US$91 billions in damage.
Maria is believed to be the deadliest hurricane in Dominica since the 1834 Padre Ruíz hurricane and the deadliest for Puerto Rico since the 1899 San Ciriaco hurricane.
September has produced around 593 named storms of which 406 were hurricanes, 138 were major hurricanes and 15 were Category 5 hurricanes, dating bad to 8151, not including this year. For the climate period 1981 to 2010, there have been 122 named storms of which 75 were hurricanes and 39 major hurricanes.
It should be noted that there are likely storms that were missed prior to the satellite era – before the mid-1960s.
September has trice had a maximum of eight named storms – 2010, 2002 and 1949. On four occasions, there were 5 hurricanes – 2005, 2000, 1961 and 1955. Further, on one occasion there were four major hurricanes – 1961.
What will this year bring? Thus far, September has produced six named storms and four hurricanes. It is likely that the record for September of eight named storms and five hurricanes being equalled or broken. Whatever it brings, let's be prepared! Be hurricane strong!
Please continue to follow me for more on the hurricane season and all things weather and climate via Twitter, Facebook and Instagram. Also, share this blog, if you found it useful.