Dale C. S. Destin|
According to the old mariner's poem, which attempts to describe the hurricane season, it says October all over, suggesting that the Hurricane season ends by the time October comes around. However, this may be a rhyme of convenience or perhaps the author and the publisher of the famous poem are from a place that never saw tropical cyclones in October, as the hurricane season in no way, shape or form ends in October. October – not over!
Already the month has produced two named storms – Gamma and Delta, with Delta currently a Category 3 hurricane over the Gulf of Mexico, threatening the Gulf Coast States of the US.
Tropical storms, including hurricanes, are no strangers to the Caribbean in October. Here in Antigua and Barbuda, we have been affected by at least 16 named storms since 1851 – 5 were hurricanes, 2 of which were major hurricanes. Our last hurricane was Gonzalo of 2014, which rapidly intensified just east of us and caught many persons off guard. Damage to Antigua and Barbuda amounted to about US$40 million.
Gonzalo also impacted the rest of the Leeward Islands, Puerto Rico, Bermuda, Newfoundland, the United Kingdom and Europe. In the end the fatalities amounted to six and damage was over US$317 million.
The Atlantic Basin, including the Caribbean, in October, averages around two named storms, including one hurricane and a major hurricane – Category 3 or higher, every three to four years, based on the current climatological period of 1981-2010. These numbers have already been tied, with well over half of the month remaining.
Category 5 hurricanes are relatively rare for October but not unheard of. On average, the month sees a Category 5 hurricane every 10 to 11 years. The last Category 5 October hurricane was Michael of 2018.
The probability of Antigua and Barbuda being impacted by a storm or hurricane, in October, is around 10 percent, based on the 1981-2010 base period. This means that we are affected by a storm or hurricane, in October, every 10 years. The probability of, at least, one hurricane impacting us is the same. With our last October hurricane being Omar of 2014, statistically, we are not due for an October hurricane until 2024. The probability of a major hurricane is 3 percent – one every 33 years, on average.
Since 1851, the Eastern Caribbean has been impacted by around 28 named storms of which 13 were hurricanes and one major hurricane, according to coast.noaa.gov/hurricanes. Over the base period of 1981-2010, there have been around 8 named storms, 4 of which were hurricanes and 1 was a major hurricane. This translates to the Eastern Caribbean having a 23 percent chance of a named storm, 12 percent chance of a hurricane and 3 percent chance of a major hurricane in October. This means that a named storm impacts the Eastern Caribbean, in October, every 4-5 years, a hurricane every 8-9 years and a major hurricane every 33 years, on average.
The probability of a storm or hurricane (named storm or named tropical cyclone) across the western Caribbean, in October, is around 45 percent. Surprisingly, this is greater than the probability – 37 percent, for a named storm, in September, for the same area. Meanwhile, for the central Caribbean for October, this probability is around 26 percent.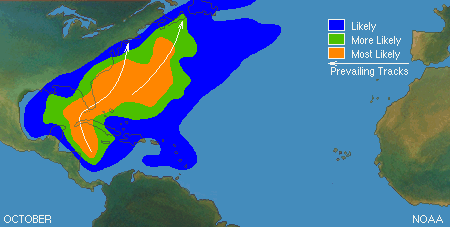 The last October hurricane to impact the Caribbean was Michael of 2018 – it impacted Cuba as a Category 2 hurricane and then when on to become a Category 5 hurricane just before making landfall on Florida Panhandle. Michael also impacted Central America, causing deaths across Honduras, Nicaragua and El Salvador. All toll, it caused 43 fatalities and over US$25 billion in damage.
From 1851 to 2019, October has produced a total of 348 named storms of which 207 hurricanes and 46 major hurricanes. For the climate period 1981-2010, there have been 61 named storms with 33 being hurricanes and 9 being major hurricanes.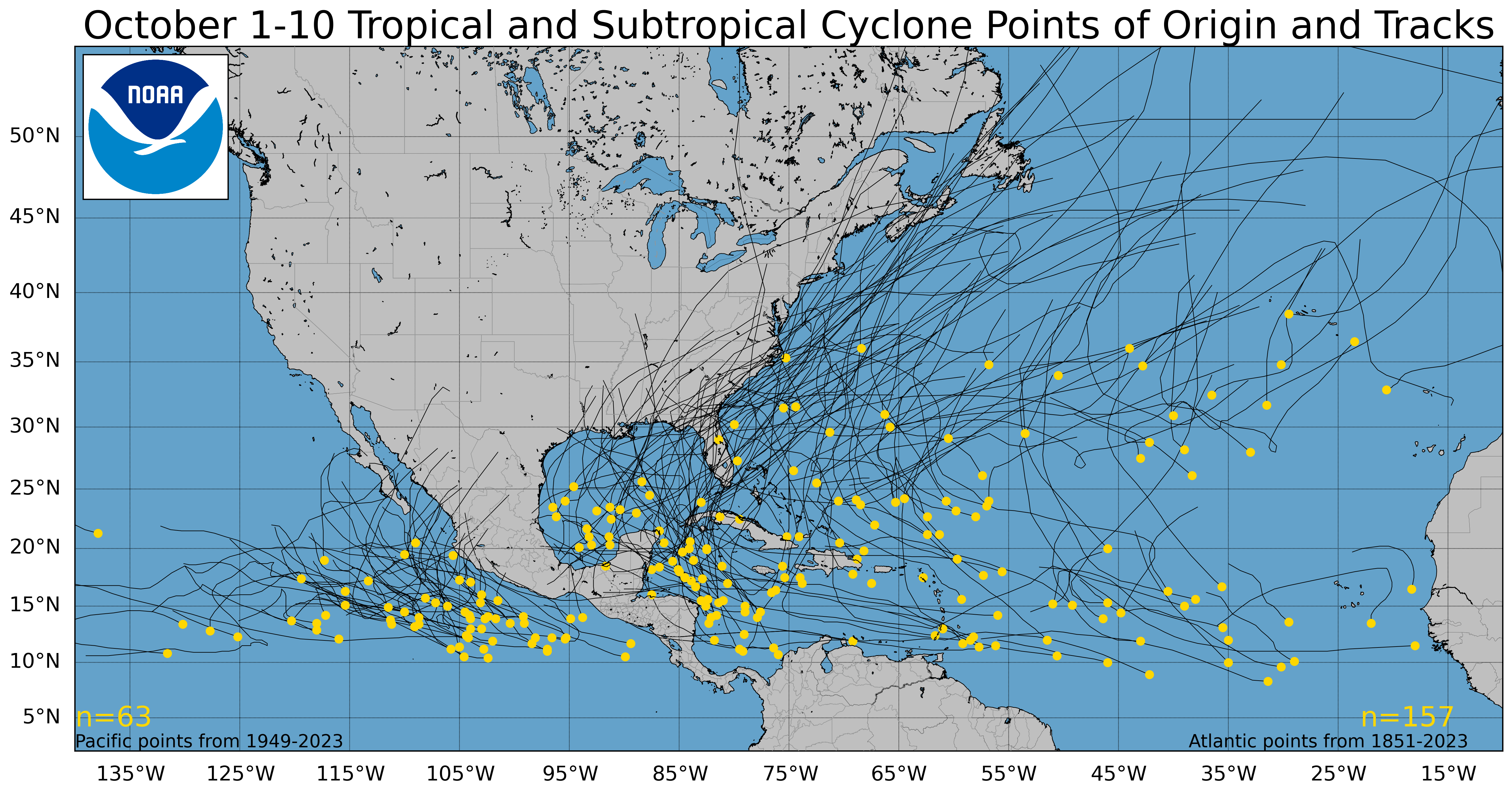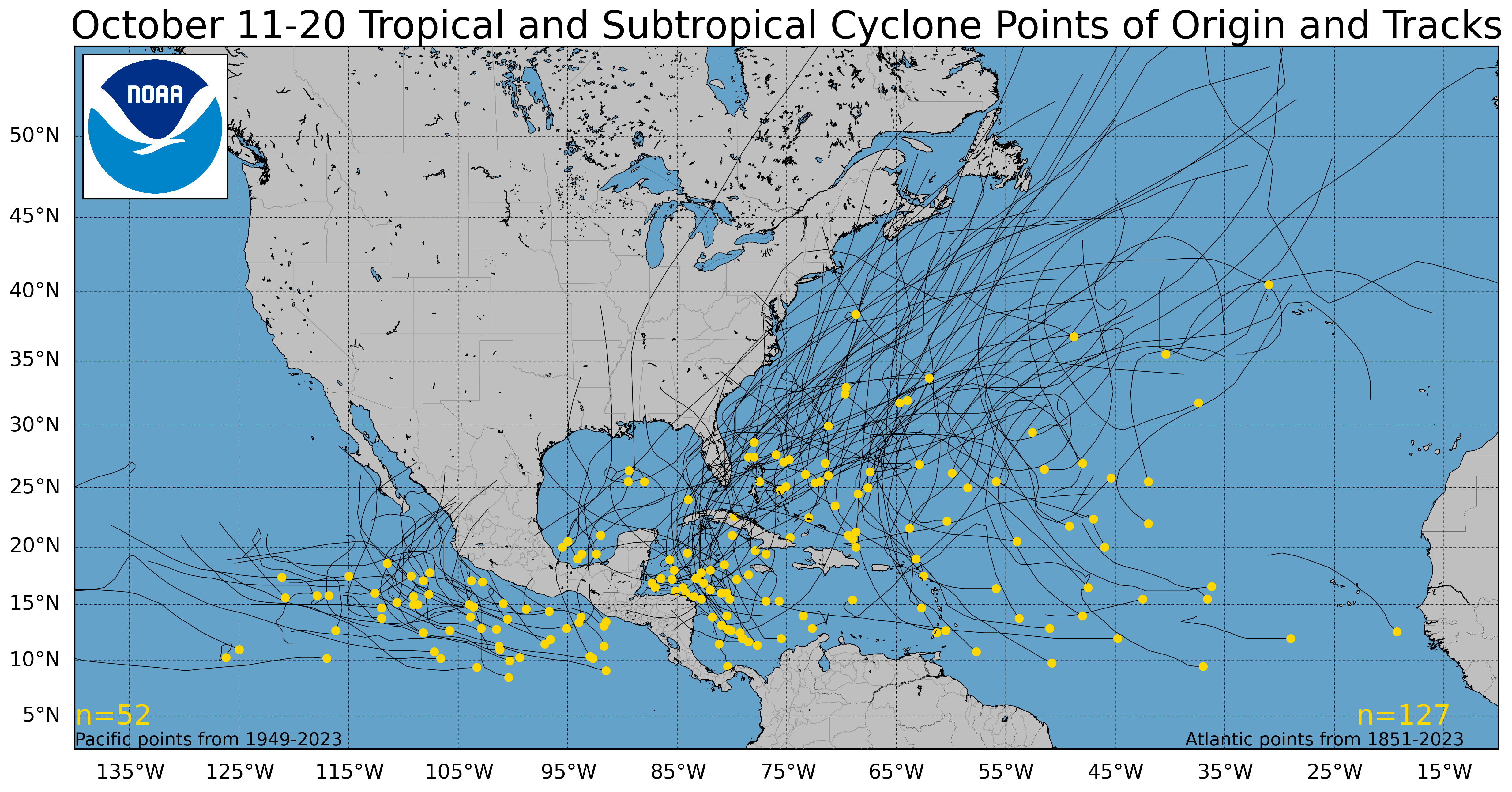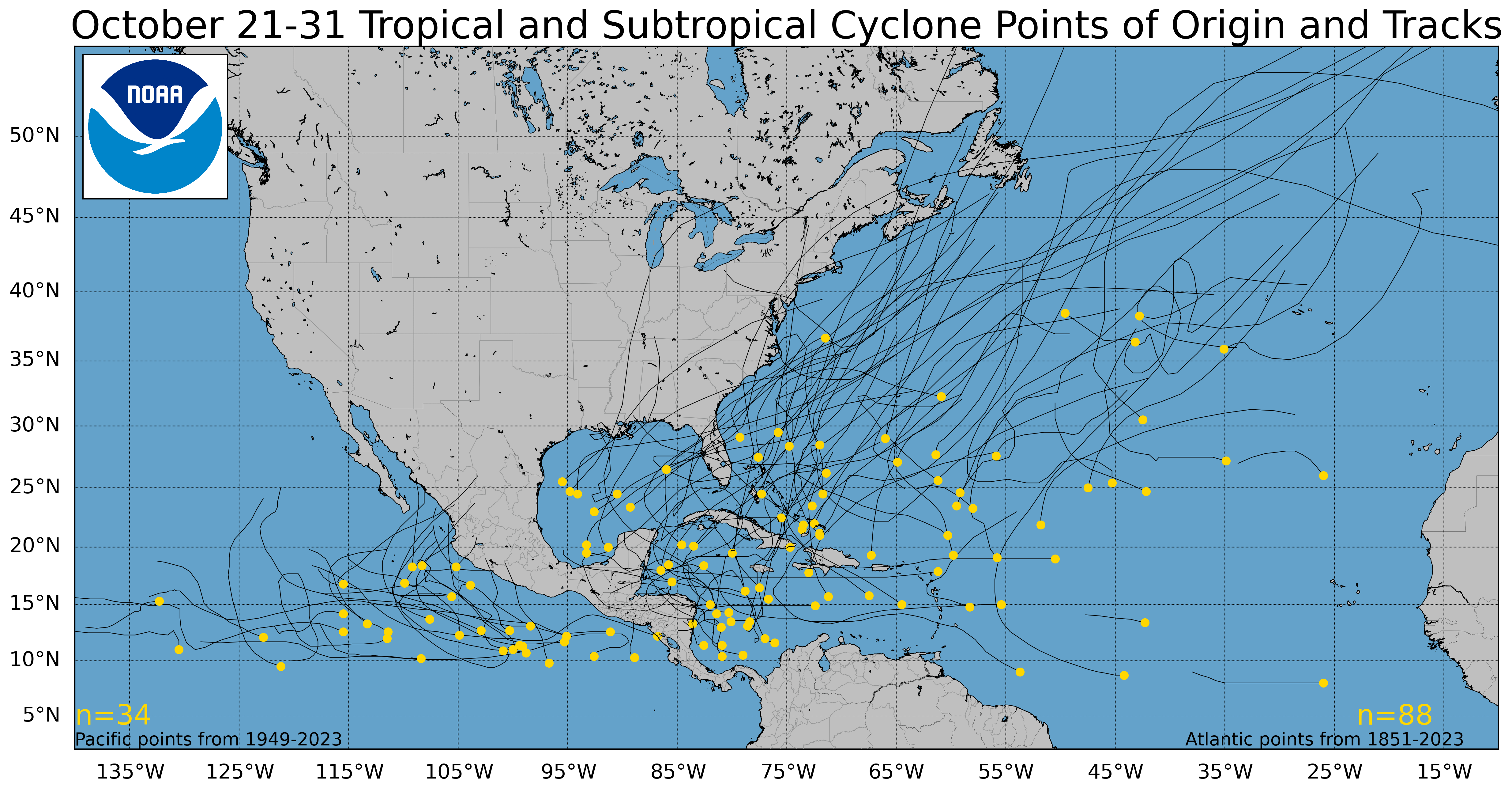 It must be noted that there are likely named tropical cyclones (tropical storms and hurricanes) that were missed prior to the satellite era – before the mid-1960s.
October 1950 holds the record for the most named storms for the month – eight. Meanwhile, October 1870 is the record holder for the most hurricanes for the month – six. Further, October has frice produced a maximum of two major hurricanes – 2005, 2001, 1950 and 1894.
What will this October-not-over bring? Thus far, it has already tied the average numbers for the month. Given that each month of the hurricane season has produced, at least, 1.5 times its average number of named storms and that up to 32 named storms are forecast for the year, with 25 gone, this October could end up producing another five storms of which all could become hurricanes and four reaching Category 3 or higher intensity.  
Now you can see why it should be called October not over, as opposed to October all over. Only about 20 times in 169 years there has been no storms in October and only twice for this millennium, thus far.
Please continue to follow me for more on the hurricane season and all things weather and climate via Twitter, Facebook and Instagram. Also, share this blog, if you found it useful. Stay prepared!