Dale C. S. Destin|
November hurricanes are almost unheard of for Antigua and Barbuda. I say almost because we have an exception – Hurricane Lenny of 1999. In 169 years of record dating back to 1851, Lenny is our (Antigua and Barbuda and the rest of the Eastern Caribbean) only November hurricane.
Prior to Lenny, we in the Eastern Caribbean, have not had a November named storm (tropical storm or hurricane) since 1896 – over 100 years before Lenny. November named storms amount to eight for the Eastern Caribbean, four of which affect Antigua, with Lenny being the only hurricane on record.
Lenny impacted Puerto Rico, the Virgin Islands, the Leeward Islands, the Windward Islands and even as far away as Colombia. It killed at least 17 people and caused over US$785 million in damage, a lot due to flooding.
The Atlantic Basin, including the Caribbean, averages one November named storm per year, one hurricane every other year and a major hurricane – Category 3 or higher intensity, every 10 years; this is based on the current climatological period of 1981-2010.
To date, no Category 5 hurricane has had its origin in November, based on the record. There was an unnamed Category 5 hurricane in 1932 that formed in October but reach Category 5 status in November; however, storms are credited to the month in which they were formed or originate in.
The probability of Antigua and Barbuda being impacted by a storm or hurricane, in November, is around 3 percent, based on the 1981-2010 base period. This translates to, at least, a storm or hurricane every 33 years, on average. With Lenny being our last hurricane, we are not due another hurricane in November until around the year 2032. The same is true for a major hurricane, in November.
The probability of a storm or hurricane impacting the Eastern Caribbean, in November, is around 6 percent or one every 16-17 years. This increases to around 12 percent or one every 8-9 years for the Central Caribbean and 28 percent or every 3-4 years for the Western Caribbean.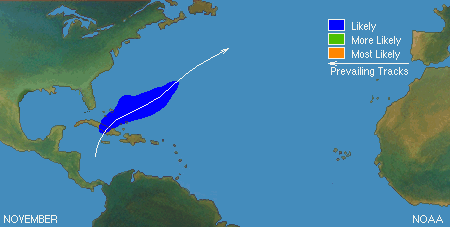 The last November hurricane for the Caribbean was Otto of 2016. It formed across the southwest Caribbean Sea and impacted Nicaragua and Costa Rica, then crossed over into the Pacific Ocean. It killed 23 people and caused damage amounting to over US$192 million. It is the last Atlantic tropical cyclone to crossover to the Pacific and only the 14th to have done so.
From 1851 to 2019, November has produced a total of 92 named storms of which 56 were hurricanes and 6 were major hurricanes. For the climate period 1981-2010, there have been 20 named storms, 14 hurricane and 3 major hurricanes.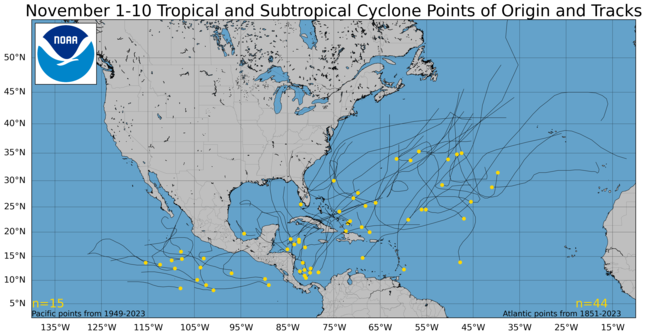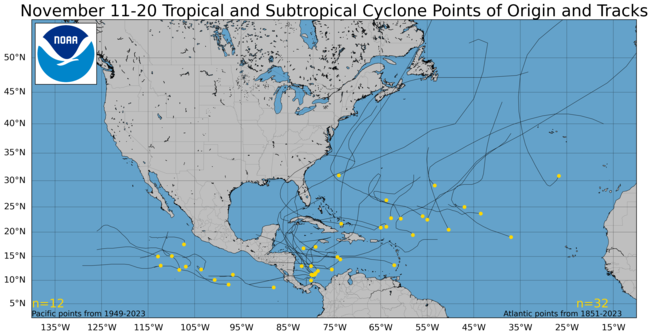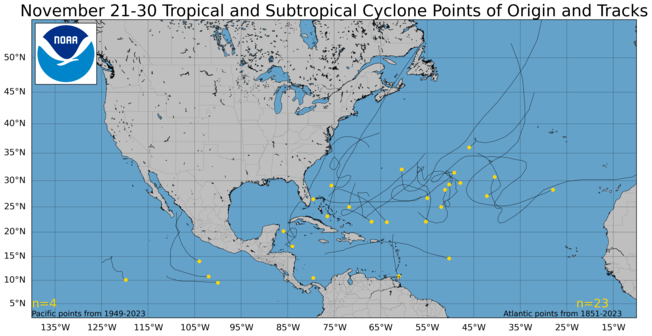 It must always be noted that there are likely named tropical cyclones (tropical storms and hurricanes) that were missed prior to the satellite era – before the mid-1960s.
November 2005, 1961 and 1931 holds the record for the most named storms for the month – three. Further, 2001, 1994 and 1980 holds the record for the month for hurricanes – two. Meanwhile, no November on record has had more than one major hurricane in a year and only six have had a major hurricane – 2016, 2008, 1999, 1985, 1934 and 1912.
What will this November bring? Given that each month of this hurricane season has produced, 1.5 to 2.5 times its average number of named storms and that up to 32 named storms are forecast to the year, with 28 gone, this November could end up producing up to two storms, with one becoming a hurricane.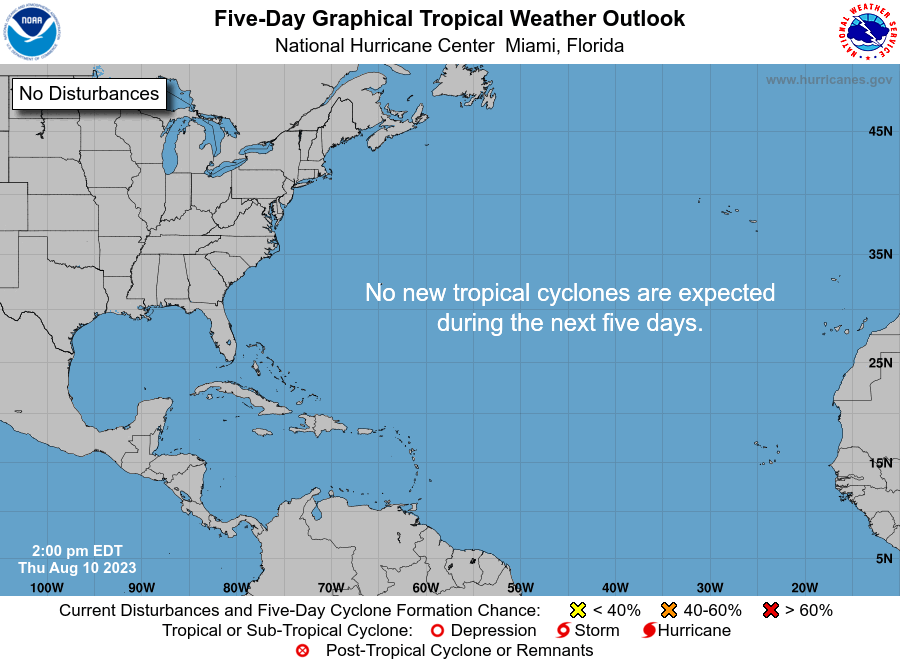 It is not over yet, but the end is nigh – November 30. Usually, November is a low stress month for hurricanes; however, this is 2020 – stay prepared!
Please continue to follow me for more on the hurricane season and all things weather and climate via Twitter, Facebook and Instagram. Also, share this blog, if you found it useful.